New Scholarship to Provide Support for African-American Students
Written by Blake Killingsworth
Details

Published: March 07, 2018
Hits: 28390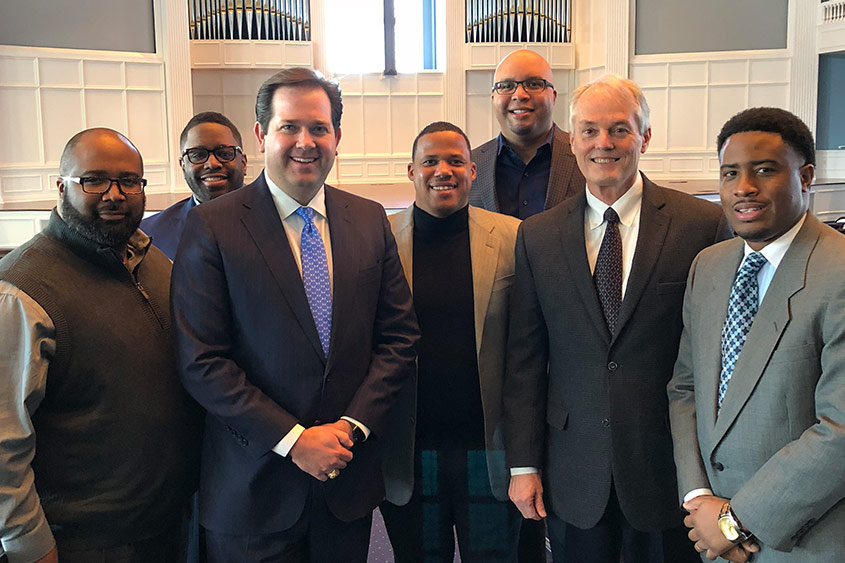 Dallas, TX – DBU is pleased to announce the formation of the Lassiter-Jones Scholarship Fund at DBU. This scholarship is designated to benefit African-American students at DBU as they pursue their education, regardless of their vocational calling.
This new scholarship initiative came about following a special meeting with DBU President Dr. Adam C. Wright, DBU Chancellor Dr. Gary Cook, and a handful of DBU African-American alumni leading efforts in our community.
The scholarship is named in honor of Rev. Dr. Wright Lassiter and Rev. Dr. Ron Jones, two incredible Christian leaders that have been influential at both DBU and the African-American community. Dr. Lassiter is the former Chancellor of the Dallas Community College District, and former DBU professor and trustee. Rev. Dr. Ron Jones is a DBU alumnus and past recipient of the DBU Alumni of the Year honor, and he has led as a mayor and pastor in Garland for many years.
As a means to help support the funding of this scholarship account, a special collection will be taken up during a series of preaching events that will take place at St. John Baptist Church (2600 S. Marsalis Ave., Dallas, Texas 75216), March 18-21, as members of the DBU Family will take to the pulpit to lift high the name of Jesus.
This Revival event will feature several DBU alumni and other friends of the University:
Sunday, March 18, at 7:00 p.m.

Rev. Bryan Carter, Concord Church in Dallas

Monday, March 19, at 7:00 p.m.

Rev. Marcus King, DC3, and Chris Taylor, Morning Star Baptist Church in Grand Prairie

Tuesday, March 20, at 7:00 p.m.

Rev. Kraig Pullam, Shiloh Baptist Church in Fort Worth
Johnnie Bradley, Shiloh Baptist Church in Dallas

Wednesday, March 21, at 7:00 p.m.

Rev. Oscar Epps, Community Cedar Hill/DeSoto
Ronald Sessions, Shiloh in Garland
For more information on these events or to provide support for this scholarship, please contact Dr. Jeffrey Johnson, DBU Vice President for University Advancement, at 214-333-5168, or email him at This email address is being protected from spambots. You need JavaScript enabled to view it..