DBU Hosts Annual Homecoming Week
Written by Helen Schlenker
Details

Published: December 06, 2017
Hits: 1581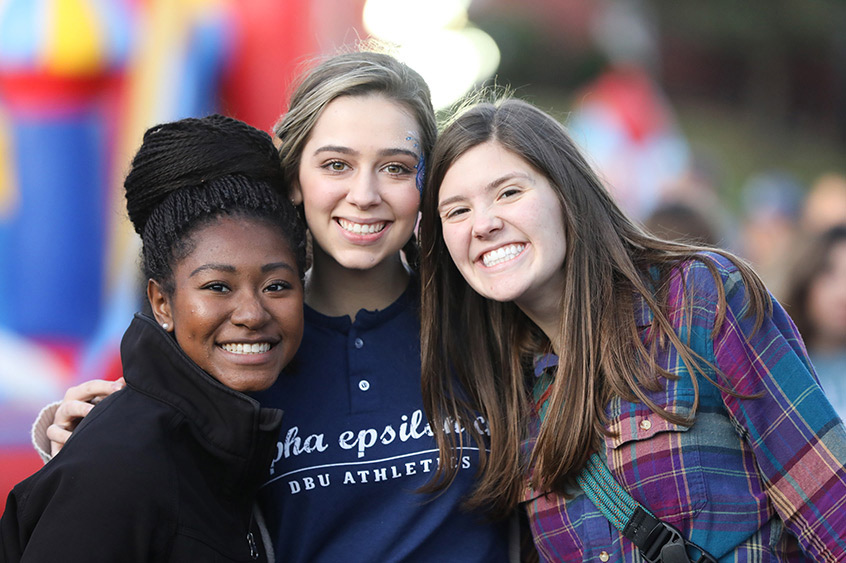 DALLAS, TX – Dallas Baptist University held its annual Homecoming festivities this past week on the DBU campus, bringing together current students, alumni, and faculty and staff to celebrate together and support the DBU Patriots.
The weekend began with the annual Alumni Homecoming Dinner, honoring Eric K. Jackson with the 2017 Distinguished Alumnus Award and Dr. Charles Ku with the 2017 Honorary Alumnus Award.
FBI Special Agent in Charge Eric K. Jackson was born in Memphis, Tennessee, and moved to Dallas when he was 14 years old. He holds a bachelor's degree in psychology and business administration from Dallas Baptist University and a master's degree in counseling psychology from Amberton University. Jackson joined the FBI in 1997 and has worked in the Tampa, Memphis, and Kansas City Field Offices, as well as the FBI Headquarters in Washington, D.C. He currently serves as the Special Agent in Charge of the Dallas Field Office.
Dr. Charles Ku serves on the DBU Board of Trustees and is a long-time friend of the University. Dr. Ku was appointed by Governor George W. Bush to the Texas Statewide Health Coordinating Council and by President George H. W. Bush to the Federal Commission on Apprenticeship. He has served, by request of President Lee Teng-Hui of the Republic of China in Taiwan, as an Overseas Chinese Commissioner and has worked as president of the Greater Dallas Taiwanese Chamber of Commerce of Dallas/Fort Worth. In addition to these activities, Dr. Ku is the founder of Sunray Chinese Schools in the Dallas area. He and his wife, Mary, are active members of First Baptist Church of Lewisville.
Following the dinner, the Mr. Big Chief competition began, one of the longest standing traditions at DBU put on by the Student Life and Media Services offices. This pageant-style competition features male contestants competing in various categories. Far from serious, this event allows students and alumni to come together and enjoy a good laugh and a wonderful performance by contestants and the Student Life staff. At the end of the night, sophomore Zac Funderburk of Branson, Missouri, was declared the 2017 Mr. Big Chief.
The excitement continued on Saturday with different reunion receptions across campus, all leading up to the tailgate party that took place before the 6:00 p.m. tip-off as the Patriots hosted #6 ranked UT Permian-Basin. During half-time, fans enjoyed performances from the DBU Cheer team and Patriettes dance team along with the announcement of the 2017 Homecoming Court, in which seniors John David Lowrie from Terrell, Texas, and Meredith Wilson from Waco, Texas, were crowned King and Queen.
Cheered on by the entire DBU Family, the Patriots opened their home season with a win, finishing the evening with an 87-80 victory. After the game, the fun was not over, as the crowd headed outside to the annual Bonfire Bash for s'mores, music, and much more, concluding the 2017 DBU Homecoming celebration.