Systems Technology and Information Management Major (BBA)
Class Types: Classroom, Online
The Bachelor of Business Administration in Systems Technology and Information Management (BBA STIM) teaches students how to work with current business software and technology. Students pursuing this degree plan will learn how to adapt to the ever-changing world of Information systems. Problem-solving, critical thinking, and recognizing innovative opportunities are stressed in the coursework. Due to the rapidly changing world of information technology, students who graduate with this degree will have the opportunity for a career that is challenging and unique. The dynamics of this profession guarantee there will always be new and interesting opportunities for those employed within this industry. Job opportunities are vast, and according to the Bureau of Labor Statistics, computer and information technology positions are projected to grow much faster than the average for all occupations nationwide.*
Total Credit Hours: 120 Minimum
Program Length: 4 Years (average) for full-time students
*Source: "Computer and Information Technology Occupations." U.S. Bureau of Labor Statistics. Retrieved from https://www.bls.gov/ooh/computer-and-information-technology/home.htm
The purpose of the major in Systems Technology and Information Management is to equip students with an exceptional, Christ-centered education in systems technology and information management so that they can become ethical leaders in the global technology economy.  We help students translate theory into practice with a focus on serving the needs of others. Our approach seeks to integrate the latest research with the timeless truths of Scripture to help students navigate the technological business world from a Christian perspective.
Program Testimonial
Sammy Lac | Euless, TX
"I have a passion for law enforcement and technology. Combining these two passions through a degree in Systems Technology and Information Management has been great! DBU has shaped my passion for cybersecurity. There have been three men that have made a huge impact in my life here on campus: Chief Havens, Daniel Kung, and Dr. Dale Sims. These men have acquired extensive experience in their respective fields and have taught me a lot about how God has worked in their lives personally. They have passed on invaluable insight to me regarding how to navigate through life and what to expect when I step into my career after graduating."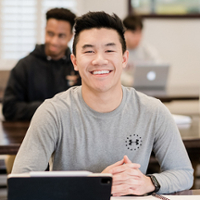 Designed to Meet Your Needs
Mission Statement
The purpose of the Systems Technology and Information Management Major of Dallas Baptist University is to provide students with a quality education in the management of technology that is based on Christ-centered, Biblical values and ethical practices and decision making. To prepare our diverse student body for the challenges and expectations of today's job market and to be life-long learners, the program emphasizes technical skills and knowledge acquisition, excellent classroom and online instruction, faith integration, critical thinking and global business environments.