Felix Pandutama Senior Spotlight
Written by Jenni Doster
Details

Published: May 04, 2018
Hits: 4699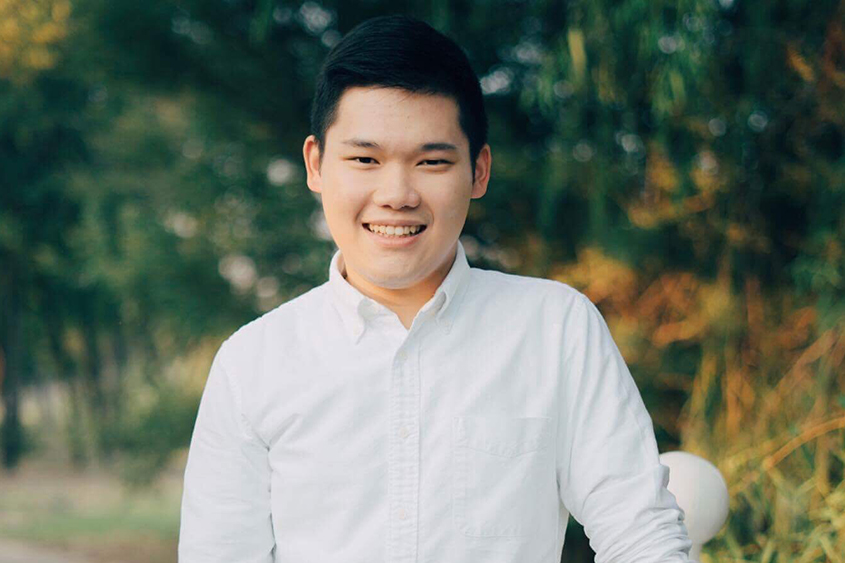 August 18, 2014 Felix Pandutama arrived at DFW Airport after a 12 hour flight from his hometown Surabaya, Indonesia. Soon to begin his college journey, Pandutama anxiously awaited the arrival of a DBU International Office staff member to drive him to campus. After finally stepping foot on campus, Pandutama met with his admissions counselor, unpacked his luggage, and ate Chick-fil-A for the very first time. Despite his jet lag, Pandutama was thrilled to be at DBU.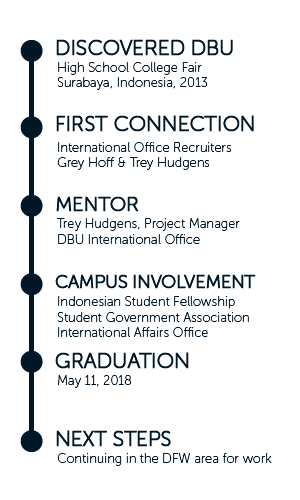 "Studying at DBU has truly been an amazing journey that I will never forget," Felix said.
During his time on campus, he served as the President of the Indonesian Student Fellowship and the International Senator for the Student Government Association, and he traveled to New York City with a business law class. Academically, Felix was named to the President's Academic Honors List and Dean's Academic Honors List each semester. On May 11, Pandutama will graduate with his Bachelor of Business Administration degree in accounting as the ending to an incredible journey. Felix greatly invested in DBU, and his presence on campus will be missed.
A note to those who helped along the way…
"God has placed so many great leaders and friends from all across the globe who relentlessly supported me and pushed me to grow not only academically, but also spiritually. I want to express my gratitude to all the International Affairs staff for investing so much in me. Specifically, I want to thank Randy Byers, my Vice President, for showing me how to be a Godly servant leader. Last but not least, I want to acknowledge Dr. Ross O'Brien and his wife, Lisa O'Brien. He is a friend, a father, and, most importantly, a true servant leader whom I have always admired and know who I can always count on. Thank you for the love you have shown me. Thank you for reminding me to always seek God's will, praying for me, giving me advice, helping me to find a job, and everything else you've done for me."
A note to future students…
"I encourage future students to always seek the Lord in everything they do. There are so many distractions and noises in this world that can easily divert us from His will. As God's children, we have to know our Father's voice, just like sheep who know their Shepherd's voice. My prayer every morning involves asking the Lord to give me His heart so that I can love others just like He loves them. I ask Him to give me His eyes so that I can see others just like He sees them. Jeremiah 29:11 says that He has a plan to prosper us and to give us hope and a future. If you are worried about your future, remember that, though your circumstances may change, you have a God who never changes, who always stays true to His word, and who keeps His promises."