MOOYAH Burgers, Fries & Shakes Opens at Dallas Baptist University
Written by Blake Killingsworth
Details

Published: October 05, 2017
Hits: 12752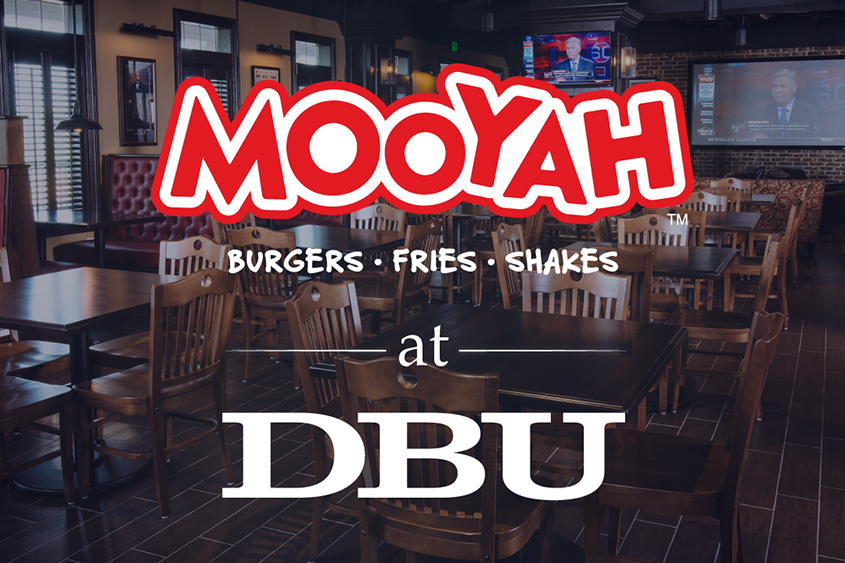 DALLAS, TX. – Students returning to classes after Fall Break will have a new spot to get their burger, fries and shakes fix! 
MOOYAH Burgers, Fries & Shakes, a fast casual, "better burger" restaurant franchise is partnering with Sodexo to open a new location on the campus of Dallas Baptist University. The DBU MOOYAH will open October 9, the first day of classes after Fall Break, and will be located in The Union in the lower level of DBU's Brownstone Residences Phase 3 facility. In this location, the restaurant will be adjacent to the intramural fields and sand volleyball court, a primary hub for student activity on campus.
"We're excited to be entering a college campus in our home market of Dallas," said Jordan Duran, Director of Franchise Sales for MOOYAH. "Dallas Baptist University's mission and vision align well with our family-friendly, positive environments we create for our Guests in our franchise restaurants across the country. We can't wait to bring a new, unique, and flavorful option to the DBU Family."
Managers for the new MOOYAH at DBU began training in July and the staff will consist of primarily DBU students. The university has invested in enhancing the lower level of the Brownstone Residences Phase 3 facility area where the MOOYAH will be located, with a goal of creating a safe and welcoming area to attract DBU patrons, with the potential to include student gathering and activities in the future. Once open, the MOOYAH plans to offer specials for students, faculty and staff and participate in campus activities and events.
"MOOYAH offers the type of high quality product and service we aim to provide the students, faculty, and staff at Dallas Baptist University. With the variety and customization available at MOOYAH, the DBU Family will have another great option for lunch, dinner, or a snack to refuel during the busy school days," said Jonathan Teat, Vice President for Administrative Affairs at Dallas Baptist University. "We could not be more pleased to partner with a neighboring Dallas-based organization."
At the DBU MOOYAH, Guests will have the advantage of choosing from a variety of bun options, such as baked-in-house artisan potato or multigrain wheat non-GMO buns and hand-crafted lettuce buns called Iceburgers to accompany the never-frozen 100 percent Certified Angus Beef® brand burgers, all natural Jennie-O turkey, and all natural grilled chicken. Each gourmet burger can be customized with three cheeses, Applewood smoked bacon, sliced avocado, along with eight free veggie toppings and ten free sauces.
MOOYAH's hand-cut fries come together in a six-step process that takes a total of 24 hours to completely prepare. A delightful combination of constant attention and a little magic help transform U.S. #1 Idaho potatoes into perfect, crisp-on-the-outside and fluffy-on-the-inside fries. Guests also have the choice of savory sweet potato fries. Never one to forget dessert, MOOYAH offers 100% real ice cream shakes, allowing Guests to choose from seven flavors ranging from vanilla to Hershey's chocolate to Reese's to Oreo and more.
In 2016, MOOYAH surpassed the all-important 100-unit milestone and will open an additional 14 locations in 2017. The brand also recently celebrated its tenth birthday with a system-wide event.
For more information on the growing brand, connect with MOOYAH Burgers, Fries & Shakes on the Facebook Fan page, and follow MOOYAH on LinkedIn, Twitter @MOOYAHburgers and Instagram @MOOYAHburgers.
For franchising opportunities, please visit www.mooyahfranchise.com.
About Dallas Baptist University
Dallas Baptist University is a comprehensive Christ-centered university dedicated to producing servant leaders through the integration of faith and learning. With an enrollment of over 5,000 students, its main campus is located in the foothills of southwest Dallas, and academic centers are located in Plano and the Hurst-Colleyville area. DBU offers 73 undergraduate majors, 31 graduate degrees in a variety of fields, and two doctoral programs—a Ph.D. in Leadership Studies and an Ed.D. in Educational Leadership. More information about Dallas Baptist University can be found at www.dbu.edu or by calling 214-333-5360.
About MOOYAH Burgers, Fries & Shakes
MOOYAH Burgers, Fries & Shakes is a fast-casual, "better burger" concept offering mouthwatering made-to-order burgers, French fries hand cut from Idaho potatoes, and real ice cream shakes. Founded in 2007, the Plano, Texas-based company serves fresh, 100% Certified Angus Beef® brand burgers, all natural Jennie-O® turkey burgers, all natural grilled and crispy chicken sandwiches and black bean veggie burgers. MOOYAH's non-GMO potato and multigrain buns are baked in-house daily, and Guests can choose from five real cheeses, bacon, avocado, chili, and more than 20 free sauces and toppings made from garden-fresh veggies. While many Guests dine in-restaurant, MOOYAH also offers online ordering and carry out for Guests on the go as well as a loyalty app. In 2017, MOOYAH was named to Entrepreneur's Franchise 500 list, Franchise Times' Fast & Serious list of the smartest growing franchise brands, and was ranked #11 on Fast Casual Magazine's annual Top 100 Movers & Shakers, a list the brand has been included on every year in the last ten years of rankings. For more information on MOOYAH, its menu or franchising opportunities, please visit www.MOOYAH.com. Connect with MOOYAH on Facebook.com/MOOYAH, follow MOOYAH on LinkedIn, Twitter @MOOYAHburgers and Instagram @MOOYAHburgers.