Veritas Lecture Series: Racial Reconciliation
Written by Faith Myers
Details

Published: March 07, 2019
Hits: 836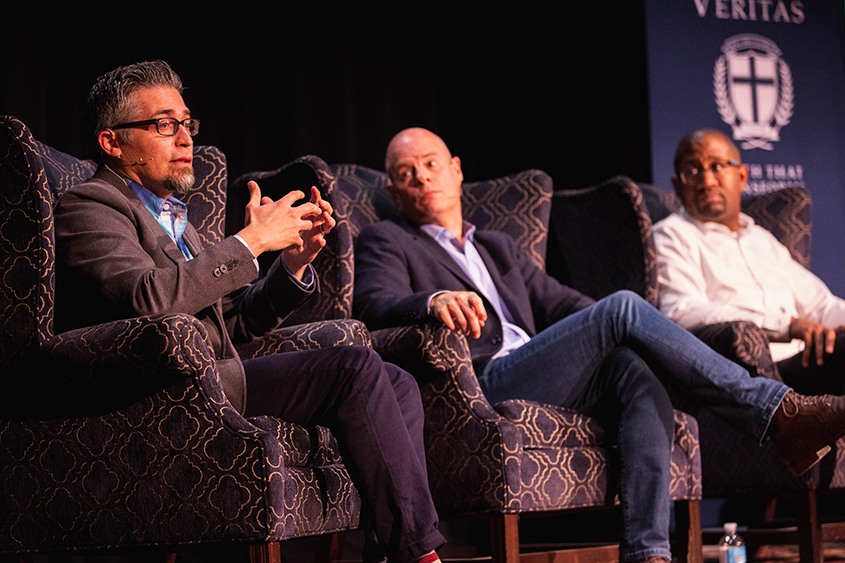 DBU was honored to have Pastors Bryan Carter (Concord Church, Dallas), Dr. Jeff Warren (Park Cities Baptist Church, Dallas), and Jason Paredes (Fielder Church, Arlington) on campus to speak on the topic of racial reconciliation. As a part of the Veritas Lecture Series, the night sought to encourage conversation and solutions to an important problem, one that not only causes divisiveness within the church, but within world as a whole.
"On the topic of racial reconciliation, I think that one of the ways we can address this issue on college campuses like DBU is by talking about it," DBU President Dr. Adam Wright said. "We cast light on the problem and then we begin to identify solutions that we could creatively take to address this issue in the world we live in today."
In a panel style of questions and answers, each pastor spoke truth into the topic of racial reconciliation with edifying wisdom, personal anecdotes concerning race, and encouragement for the church to unify around racial reconciliation in such a way that would glorify God.
"So many times we cling to where we're most comfortable, but I think that one of the things you can do to make DBU the campus you want it to be and begin having these conversations is to really build relationships," Carter explained. "Because ethnic members on a campus can feel incredibly isolated, it's important for relationships and bridges to be built so everyone feels welcome, especially on a Christian campus."
The importance of building these relationships expands beyond just the Christian college campus and into all areas of society, including the church.
"Diversity shows us a lot more of what heaven's like," Warren said. "The Gospel leads to inclusion, inclusion leads to diversity, and diversity in the church or an organization leads to one of two things: either conflict or celebration."
Ultimately, the night served as a great encouragement to further conversation on racial reconciliation; as Christians, we are called to do this in manner that exudes the love of Christ and unifies the church, while remembering that we are all created in the image of God.
"It's also a unique season if you're in that college age," Paredes shared. "You're still crazy enough to do something about the issues you believe in. The further you get a long, the more you start to play it safe. In this age, by God's grace, tomorrow you could change the world because you're crazy enough to believe you can change world. And you need that kind of mindset and ideology if you're going to stand up against this. Who can stand up against racism? Well you can stand up against it, if you actually believe you can."