M.A. in Discipleship
A Practical Education in Transforming Lives
Available Online!
This degree provides a multifaceted approach for discipling individuals, groups, and congregations towards spiritual maturity and obedience to Jesus Christ, by providing a strong biblical, theological, philosophical, and practical foundation in Christian discipleship for students currently leading or preparing to lead the body of Christ towards fulfillment of the Great Commission (Matt 28:19-20). The Master of Arts in Discipleship program supports the university aim of offering Christ-centered, quality higher education in order to produce servant leaders in the disciple-making ministry of the church.
"Do not conform any longer to the pattern of this world, but be transformed by the renewing of your mind." — Romans 12:2
How Our Graduates Impact Their World
Our graduates serve in a variety of church-related ministries, including:
Associate Pastors, Discipleship Pastors, Ministers of Education.
Lead Pastors with a passion for disciple making as the mission of the church.
Executive Pastors and Ministers of Church Administration.
Para-church ministries, curriculum development, teaching, conference leading.
Experienced Faculty. Servant Leaders.
Learn from faculty practitioners who teach not only from a rich academic context but also from their ministry experience. We intentionally integrate Christ-centered, servant leadership principles into every aspect of study - from the courses students take, to the professors who teach. This DBU distinctive sets apart our program and our graduates.
Designed to Meet Your Needs
We enable you to pursue graduate study while balancing career, family, and ministry. DBU graduate students have many options for completing their degree, including schedule flexibility and financial aid.
The Degree Program
The 36-hour M.A. in Discipleship consists of:
27 hours, Core Requirements and Program Courses
9 hours, Track Options in one of the following:
Local Church Discipleship
Discipleship through Communications
Discipleship for the Family
Ministry Focus (custom-designed track)
Program Goals
Demonstrate a foundational knowledge of the Bible and theology
Integrate faith and learning in a ministry training context
Apply servant leadership principles in opportunities of influence
Identify and cultivate the ministry potential of others
Create, organize, implement, and evaluate ministry education
Meet the Director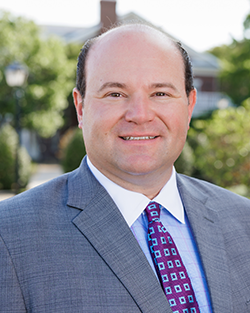 Dr. Blanton Feaster
Program Director
Email: blanton@dbu.edu
Phone: 214.333.5256
Pilgrim Suite 304
Local church ministry in the area of Discipleship is changing. If you are called by God into this area of ministry, no doubt you are searching for current, practical training for ministry. I believe you will find that training at Dallas Baptist University through the M.A. in Discipleship degree program. It is a university-model ministry degree designed to prepare you for practical ministry in the local church in the 21st Century. The greatest benefits of this degree are the introduction to realistic ministry issues and settings and the guidance and personal investment in your life and ministry from faculty members, many of whom are current ministry practitioners. As you take the next steps of obedience in answer to God's call on your life, please get in touch with me.
FORGE
DBU's Graduate School of Ministry and Pine Cove's Forge have partnered to allow Forge alumni to earn up to 18 hours toward a master's degree offered through the Graduate School of Ministry.
Sky Ranch
Tuition free master's degrees! The partnership between DBU's Graduate School of Ministry and Sky Ranch provides participants in their Legacy Fellowship the opportunity to pursue one of nine online ministry degree programs, paid for by Sky Ranch, while gaining invaluable real world experience at the same time. Visit the Sky Ranch website for more information.
Accelerated Degrees
Are you a current or prospective Undergraduate student? Get your Master's faster with our Accelerated Degree Programs.
Advanced Certificates
Wanting to pursue graduate studies, but not ready to complete a master's degree? Consider an Advanced Certificate Program!
DBU's Ministry-Related Master's Degrees provide Christ-centered graduate level training for ministry leaders, equipping them with a biblical, theological, historical, and practical foundation for ministry.
Enhance your ministry by pursuing a master's degree.