George Friedman | Institute for Global Engagement
March 31 | 4 p.m. CST | FREE | Live Webinar
Join the Institute for Global Engagement at DBU and the World Affairs Council live to hear New York Times Bestselling Author and geopolitical forecaster George Friedman. Friedman is discussing his new book and providing expert commentary on government, foreign policy, economics, & culture in the coming decade.
Friedman calls his new book the hardest he has ever written. It forced him to "face my country as if it were a stranger, to see it with the kind of indifference to the diagnosis that I might see Turkey or Japan." Ultimately, what Friedman sees is upheaval in government, economics, foreign policy, culture, and even marriage caused by a convergence in the late 2020s of an 80-year "institutional" cycle with a 50-year "socio-economic" cycle.
March 31, 2020
4:00 p.m. CST
Free Webinar on Zoom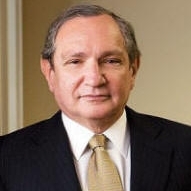 George Friedman
Born in Budapest in 1949, Dr. George P. Friedman is today a resident of Austin, a bestselling author, and founder of the respected Geopolitical Futures, a political risk advisory firm. A gifted political soothsayer, Friedman's most recent bestseller, The Next 100 Years, explores the challenges of an ever-shrinking world. Friedman holds a bachelor's degree from City College in New York and a doctorate in government from Cornell University.