Meet Dr. Terry L. Fansler
Associate Professor of Music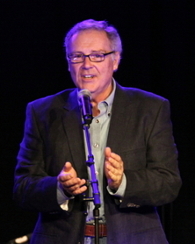 Educational Background
B.M., Oklahoma Baptist University
M.M., Ph.D., University of North Texas
Dr. Terry L. Fansler's Background
Terry Fansler came to DBU in the fall of 2002 as an associate professor of music and director of studies in music business. In addition to directing the program, he teaches courses in music business, entrepreneurship, music literature, and music history. He holds a B.M. in vocal performance from Oklahoma Baptist University in Shawnee and both a M.M. in musicology and a Ph.D. in musicology from the University of North Texas. His research interests are the musical performer as an entrepreneur, entrepreneurial practices of musical composers from the 18th and 19th centuries, and the development of commercial (popular) music in 20th century America.
Dr. Fansler began his career as a university professor but also aspired toward working professionally in the music industry. Creating a unique musical show targeted toward the convention market, he left the university and spent the following thirteen years performing on stage throughout the United States, Canada, and the Caribbean. He also co-produced, wrote and co-hosted a magazine-style television program about small business that aired nationwide weekly on PBS.
A return to university teaching in 1996 led him to a post in the School of Music at Texas Christian University in Fort Worth. There he taught music literature and music history before coming to DBU.