Dale Sims, Ph.D.
Senior Professor of Management Information Systems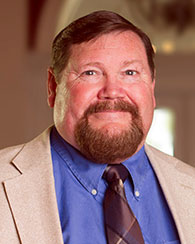 Educational Background
Ph.D., University of North Texas
M.S., Houston Baptist University
B.A., Southwestern College
Dr. Dale Sims has been a professor at DBU since 1991, teaching Computer Science courses and helping create the Management Information Systems (MIS) program. He has served as both Associate Dean and then Dean of the College of Business. He is a Piper and Fulbright Scholar, has been featured in the Who's Who in the World and other Who's Who Editions, and has received DBU's "Outstanding Professor of the Year" award. He was also named the 2012 "College of Business Outstanding Professor."
Prior to coming to DBU, Dr. Sims earned a Bachelor of Arts in Biology with a minor in Chemistry from Southwestern College and a master's degree in Human Resource Management from Houston Baptist College. Deciding to further diversify his knowledge and academic qualifications, Dr. Sims earned a Ph.D. from the University of North Texas in Information Science. Diversity continues to be a theme throughout his professional career. He worked in research and development for a major petroleum company, acted as a computer network and system engineer, designed and supervised the building of computer facilities, worked as a systems analyst and application programmer for the third-largest insurance company in the U.S., invented new types of computing devices and equipment for geologists and geophysicists, and developed an online, real-time stock and bond analysis program. Dr. Sims' calling to DBU is evident in the long and successful tenure he continues to enjoy. Having grown up in farming country, he loves the great outdoors and enjoys hunting, fishing, gardening, carpentry, and shooting skeet in his spare time. Dr. Sims serves on the board of directors for several international organizations, is a deacon and Bible study teacher at First Baptist Church in Grand Prairie and is devoted to his family.