Philip (Chip) Ricketts, Ph.D.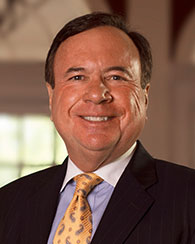 Educational Background
Ph.D., University of North Texas
M.B.A., Southern Methodist University
B.A., Harvard University
Dr. Philip (Chip) Ricketts has taught at Dallas Baptist University since 1990, serving as an adjunct professor for three years before accepting a full-time position in 1993. Dr. Ricketts was born in Lafayette, Louisiana and earned his BA in Economics from Harvard University in 1976. After being in the corporate world, he went back to school for advanced degrees receiving his MBA in Marketing from Southern Methodist University and a Ph.D. in Marketing from the University of North Texas. Dr. Ricketts has a vast knowledge of the marketing world from his many diverse careers. These included an assignment as Chief Economist for the New Orleans Commodity Exchange, eight years as a stock and commodity futures broker, a stint as a newspaper reporter for the Dallas Business Journal, and marketing positions with both BeautiControl Cosmetics and Cybertek Corporation. He also started a successful chain of ice cream stores in Lafayette, Louisiana.
Dr. Ricketts and his wife, Deedee, have been married for nearly 45 years and have three children, Jason, Brian, and Elizabeth, and three grandchildren. In addition to playing golf, Dr. Ricketts and Deedee love to take cruises and have traveled extensively over the last decade. They currently attend Prestonwood Baptist Church and are involved in their homegroup.